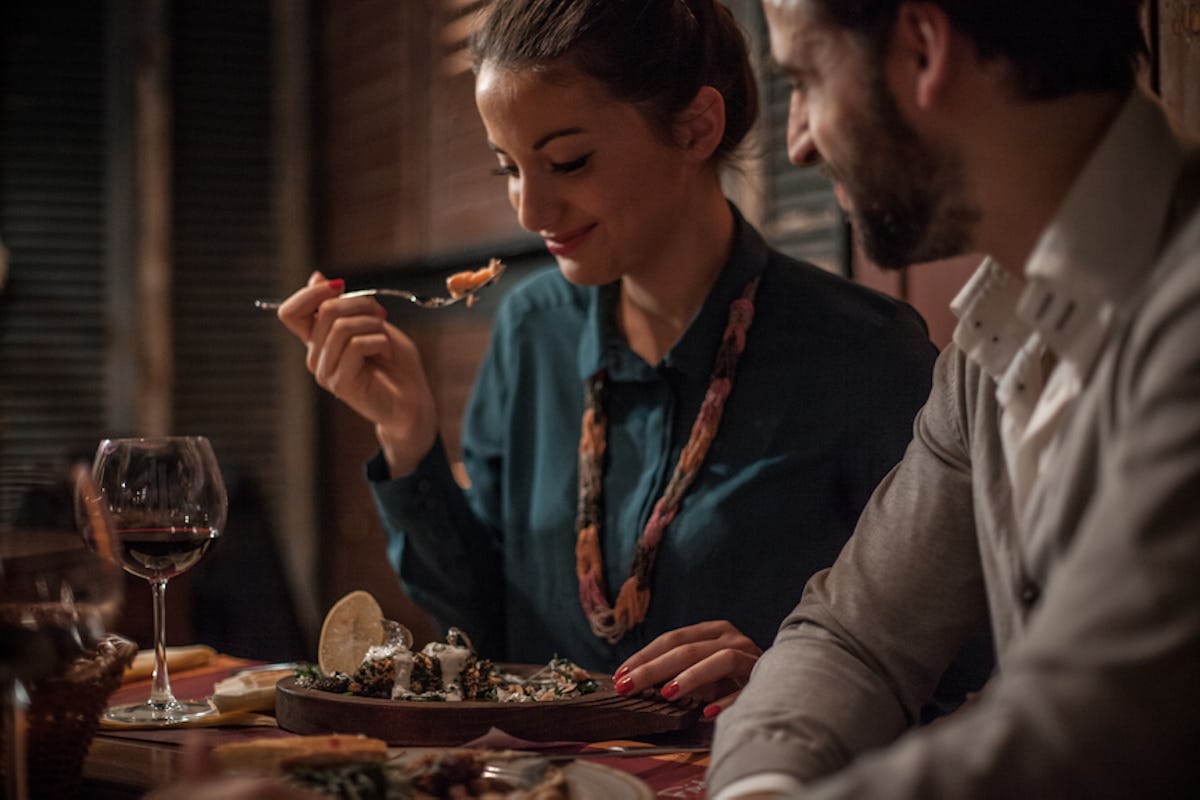 5 Lazy Valentine's Day Dinners That Taste Like You Actually Put In Effort
Getting reservations to a restaurant on Valentine's Day is an exhausting, expensive task, especially if you live in a big city. I swear, you'll need aliases that sound like you could be a celebrity couple, and — thanks to overpriced, prix fixe menus — the funds to match. Or, you could just prepare one of these easy Valentine's Day dinners, impress your partner with your culinary genius, and save yourself a few heated conversations with restaurant hosts.
When it comes to cooking for significant others, I've learned two major lessons. First: Simplicity is key. If you're an amateur chef, don't try to whip up intricate dishes like hand-rolled sushi or duck à l'orange — I promise, you'll end up wasting a ton of time and money on ingredients before caving and ordering takeout. And second, cover anything in cheese and you're golden. (Unless you and your partner are lactose-intolerant, in which case, please accept my condolences.)
If you're not exactly a Master Chef (or if you're just insanely lazy in the kitchen — no judgment), don't panic. You can still prepare a totally delicious, romantic dinner for your partner this Valentine's Day, I promise! Here are five recipes that require hardly any effort, but are sure to satisfy you and your SO.
1. Skillet Sicilian Chicken
This recipe from Delish is, well, delish (and almost guaranteed to bring your partner to their knees). It's creamy, tender, and decadent — as all Valentine's Day dinners should be — but requires no more effort than searing some chicken, throwing it into a broth-and-cream-based sauce, and sprinkling a few spices on top.
2. Slow-Cooker Boeuf Bourguignon
Because everything made in a slow-cooker is crazy easy to prepare, but anything drenched in red wine (with a French name, at that) feels sophisticated and romantic. Basically, all you've got to do to prepare this dish is sauté a ton of bacon, beef, and vegetables, toss everything into a slow cooker with some Merlot, and you're good to go. This recipe from Genius Kitchen breaks it all down for you.
3. Truffle Mac and Cheese
I can't think of any dish more comforting and universally adored than mac and cheese. And this truffle mac and cheese recipe from Williams-Sonoma — made with Gruyère cheese and a splash of truffle oil — is definitely an upgrade from the packets of orange powder you're probably used to pouring on top of your pasta. Your partner is sure to be impressed, and they'll never know that this is only a smidge more complicated to throw together than a box mix.
4. Avocado Pesto Pasta
If you or your partner are vegan — or if you're just big fans of avocado — this is the perfect Valentine's Day meal. Concepted by Chef Chloe (the genius behind by CHLOE., NYC and LA's favorite vegan cafe), this avocado pesto pasta is so rich and velvety, you'll hardly believe it's dairy-free. It's also insanely easy to make: Just mix and mash a handful of vegetables and spices, toss in some fresh pasta, and you're set.
PS: Did you know that avocados are an aphrodisiac? Because that could come in handy later in the evening.
5. Almond-Crusted Creole Salmon
Salmon's another aphrodisiac, and this particular recipe from Good Housekeeping — made with yogurt, Creole seasoning, and a bit of lemon peel — feels fresh, light, and as sexy as a fish dish can. It's super simple, but tastes like the type of meal you'd indulge in while cruising along the Mediterranean or down the Gulf Coast.
Bam, you're basically Julia Child. Bon Appétit, mes amis!
Check out the entire Gen Why series and other videos on Facebook and the Bustle app across Apple TV, Roku, and Amazon Fire TV.
Check out the "Best of Elite Daily" stream in the Bustle App for more stories just like this!