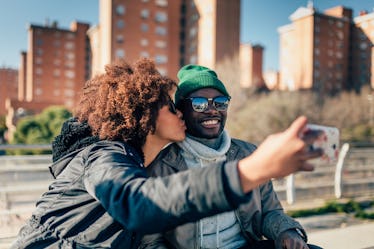 5 Creative Anniversary Gifts You Can DIY, Because Love Don't Cost A Thing
If you have an anniversary coming up, your excitement about planning a celebration might outweigh your budget for the event. But don't stress! After all, it's the thought that counts, and there are plenty of DIY anniversary gifts that can be as special and amazing as a fancy, pricey present. There's also something wonderfully sentimental about a unique gift that is personalized to your relationship, emotionally significant, and can't be store-bought. So consider rolling up your sleeves and getting creative!
While coming up with a special DIY gift for your boo could seems like a tall order, sometimes a simple gift can mean the world to someone. Sure, some people might like to make anniversaries a big deal with reservations at fancy restaurants, weekend trips out of town, or even lavish parties, but you and your honey might decide to mark this milestone in your relationship in a budget-friendly way.
The holidays can certainly put a strain on your finances, and an anniversary doesn't need to be another taxing demand on your wallet. One of my all-time favorite anniversary moments with a boyfriend was when he simply wrote me a card with a list of his favorite things about me. It was so sweet, and all it cost him was a little time and thought. So read on to get inspired to come up with your very own, DIY anniversary gift!