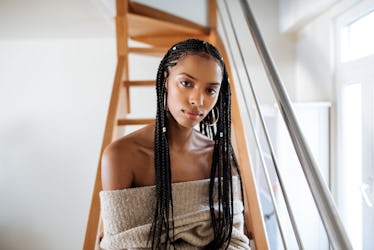 5 Big Decisions You'll Probably Be Terrified Of Making In Your 20s
Addictive Creatives, Stocksy
Your 20s is a time for growth and making irreplaceable memories. You're taking on new challenges, exposing yourself to different experiences, and trying things you never have before. And while many new experiences are definitely exciting, they can also be intimidating, too. After all, you're still figuring things out for yourself and finding your footing in adulthood. There are a few decisions that seem scary to make alone, but you'll be so proud of yourself once you take the leap.
Things like signing the lease on your first apartment, buying your first car, and moving in with your significant other are decisions that you really have to make for yourself. While your closest family and friends will likely give you their two cents whether you ask for it or not, all of these decisions are ultimately up to you. You might feel like you're still young to be making major life decisions for yourself, but you have to start sometime.
Even though growing up and adulting can seem a little daunting at first, the more decisions you make, the easier it will get. Don't be afraid of making these decisions on your own. You know what's best for you, so trust your instincts. You'll be so glad you did.