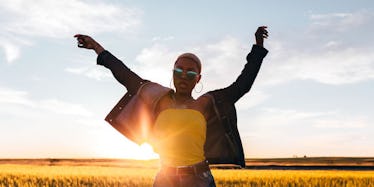 A Fitness Expert Reveals The Most Creative Ways To Move Your Body When You Feel Lazy AF
Lazy days get the best of everyone from time to time. You know the feeling: All you want to do is marathon an entire season of your favorite Netflix show and impersonate a sloth for as long as humanly possible. The mere thought of the gym is a major turn-off, and movement of any kind honestly just sounds like a lot. Still, there are creative ways to move your body — even on those super lethargic days — that don't require all that much effort, but will still allow you to tune into your body's needs and take care of yourself.
"Breaking a sweat doesn't require any training, athleticism, or even rhythm," Sarah Rodenhouse, founder of Moved LA, tells Elite Daily over email. "Creative movement is easy to sneak into your regular routine and make a part of everyday life."
Rodenhouse is a self-described "movement leader" at Moved LA in Los Angeles, where her workshops feature "non-exercise workouts" that use movement as a way to encourage self-expression, rather than as something you feel like you "should" be doing (but probably don't really want to). She explains that a bit of daily movement, even when you're feeling super sluggish and unmotivated, can provide a boost in both your mood and your energy, as well as an increase in blood circulation. All you have to do is get up, get moving, and find creative ways to keep yourself going — in other words, there really aren't any rules.
"When it comes to creative movement exercises, let music be your guide," Rodenhouse says. "For a quick boost, pick a song that really makes you want to move, and do one exercise for the whole song. Keep things interesting throughout by changing speeds, directions, levels, and/or by focusing on different body parts."
Below, Rodenhouse shares five simple ways to make movement fun again, even on the the laziest of days. Fair warning: These moves are a little out there, but hey, it beats climbing the StairMaster.