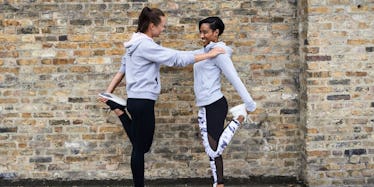 If You & Your Partner Want To Start A Workout Routine Together, These 5 Moves Are Perf
There's nothing better than working out with your SO. After all, if you don't love me at my sweatiest and most beet-red, then you don't deserve me at my freshly showered and non-panting, right? If you're just starting to get into the swing of a fitness routine in 2019, why not try out some couples workouts for beginners? These bad boys will allow you and bae to challenge one another and move your bodies, all while spending quality time together. What could be better?
"Nothing says 'we're in this together' like a workout for two," John-Francis Kennedy, training specialist at Freeletics, tells Elite Daily over email. "A partner workout can increase accountability, keep the workout level high, and lead to better results."
Plus, according to Kennedy, partner workouts also give you a different kind of boost in terms of motivation, because you're spending some quality time with one of your favorite people, and you're connecting with one another on a whole different level. And, if you ask me, there's nothing sexier than strengthening your relationship by doing something that benefits both yours and your SO's mental and physical health.
So, the next time you and your partner have a bit of free time around the house, challenge each other to these five couples workouts — don't worry, they're all beginner-friendly, y'all.