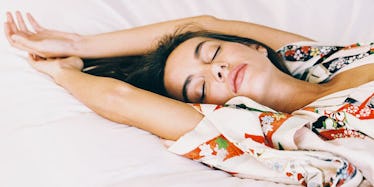 Your Sleep Schedule Will Thank You For Practicing These 5 Breathing Techniques
When you're having trouble falling asleep, time can feel like it's coming to a literal standstill, and it can almost feel like you're losing your mind. No matter how comfy a position you get into, or how much you try to simply chill, your brain just doesn't seem to turn off, and honestly, it's probably ruining your overall sleep schedule — but you have no idea how to catch some quality shut-eye. While it might not be the first strategy you'd think of, there are certain breathing techniques that can help you fall asleep, so you can finally get the good night's slumber you deserve.
"Getting a full night's sleep is the most underrated health habit and healing tool available," Nancy Gerstein, yoga teacher, author of the book Guiding Yoga's Light, and founder of Motivational Yoga, tells Elite Daily over email. "The body needs time to heal, cleanse, and rejuvenate from the day's activities. Sleep is linked to balanced hormone levels (including the stress hormone cortisol) and clear thinking."
But the more worked up you get about not sleeping, says Gerstein, the more sleep will likely elude you. "The key to sound sleep is in the surrendering, not in trying harder," she explains.
Enter: breathing techniques. According to Harvard Health, deep, diaphragmatic breathing "can slow the heartbeat and lower or stabilize blood pressure," meaning it can help you relax and wind down physically, which can then translate into a mental state of relaxation as well.
So, if you've been feeling especially restless lately, for one reason or another, why not try using the power of your very own breath to help you fall asleep? Once you're in bed, focus on your inhales and exhales, clear your mind, and try one of these techniques to see how it affects you.