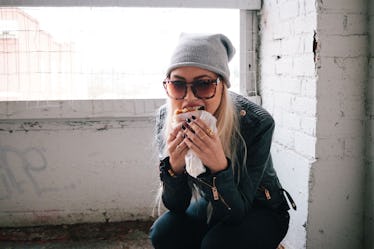 When The Cold Weather Makes It Hard To Wake Up, These 5 Breakfasts Will Keep You Cozy
There are very few things in this world that can lure me out of a snug and secure blanket burrito on a chilly, brisk morning. Just about the only thing that gets me out of bed on fall and winter mornings is the thought of a warm, comforting breakfast, accompanied by the largest mug of coffee. If you're the same way, you're probably starting to browse ideas of breakfasts that warm you up as the leaves start to fall and the breezy, autumnal weather sets in.
After all, let's be real, guys: On bleak, blustery mornings, it's only human to want to crank up your space heater, grab an extra blanket (or five), and depart into a cavernous, prolonged hibernation until spring rolls back around. Right? Guys?
OK, for real, though, back to breakfast. Elite Daily spoke with a few nutrition experts to get the low-down on the coziest, warmest, and most nourishing breakfasts, to not only ease you into your day on chillier mornings, but to also provide you with loads of energy, yummy flavors, and a satisfied belly all season long. These meals are versatile, exceptionally delicious, and honestly, they might start morphing you into — dare I say — a morning person.