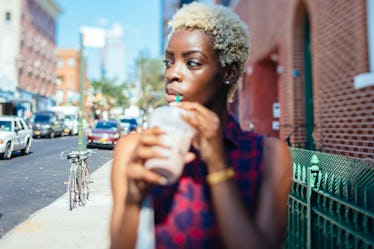 You'll Never Skip Breakfast Again With These 5 Delicious Grab & Go Treats
While I am a diehard breakfast lover who would gladly eat pancakes at every waking hour of the day, when I first wake up in the morning, pressing snooze usually feels way more appealing than making an elaborate recipe from scratch. But the thing is, breakfast is just as important as your mom always told you it was when you were growing up, and the results of a new study suggest more and more of us need easy breakfast ideas for busy mornings to ensure we won't skip this crucial part of our day.
The study, which has been published in the American Journal of Agricultural Economics, looked at the effects of different elementary school breakfast programs on young students. According to the study, researchers were able to analyze the effects of three different types of programs: In one program, students had 10 (mandatory) extra minutes to spend in the cafeteria in the morning; in a second program, students were given the option to eat breakfast in the classroom; and the final program served as a control, and therefore did not have any special breakfast accommodations for students. For every student involved in the study, ScienceDaily reports they were given wristbands to track when they arrived at school and how much food they ate (as well as the food's nutritional information). The students were also tasked with completing a daily questionnaire throughout the study, which asked questions about when and how they ate breakfast (if at all), how hungry they felt when getting to school in the morning, and whether they liked any of the food at their school's cafeteria.
According to the study's results, the researchers found that the biggest thing keeping students from eating breakfast is time — more specifically, a lack-thereof in the morning. But get this: Even just 10 more minutes in the morning could be enough to help you fit a healthy breakfast into your routine, the study found.
In other words, with just a little bit of prep the night before, these easy (and super tasty) breakfast recipes will help you make sure you don't leave your stomach grumbling through your morning commute. Plus, all of these treats are eat-while-you-walk-approved, just in case you have to literally grab them out of your fridge and rush out the door.