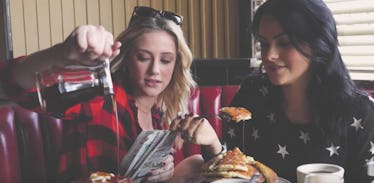 5 Betty & Veronica Moments From 'Riverdale' That'll Make All Sisters Who Are BFFs Say "Same"
Riverdale characters Betty Cooper, played by Lili Reinhart, and Veronica Lodge, played by Camila Mendes, sure go well together. In my opinion, their blossoming best friendship rivals iconic ones of past hit television shows — like Blair and Serena from Gossip Girl, along with Lorelai and Sooki from Gilmore Girls. Basically, this power duo is majorly cool and majorly close, and even though they're not sisters by blood, they sure have a very special relationship. There are some notorious Betty and Veronica moments from Riverdale that all sisters who are BFFs can relate to.
Like Veronica and Betty, sister BFFs have a special type of bond. In any given moment, they can be (and have been) both mortal enemies and the closest friends you can possibly imagine. They know each other better than they know themselves — down to every strength and every weakness. They can't hide anything from one another, as much as they may try, and it takes something really huge to keep them fighting for more than a day.
Does this sound like you and your sister? Yeah, it looks like the two of you are probably closer than you even know. Chances are, your relationship has a ton of eerily similar moments to a friendship like Betty and Veronica's. Throughout the show, the two go through a lot (well, the whole town kind of does, TBH). These five moments are things every sister duo will say "same" to.