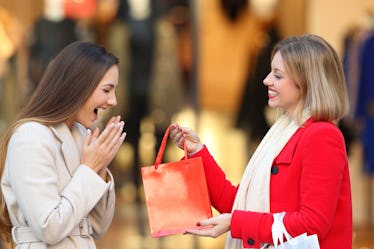 5 Best Christmas Gifts On Amazon For Your BFF That Perfectly Fit Her Personality
'Tis the prime time to get some holiday shopping done, am I right, ladies? Each day we get closer to Christmas gets us more excited and more festive (no, I haven't worn Christmas socks for the past three days or anything...), but it also gets us hella down to the wire. Christmas shopping can be fun and games, but you may find yourself stressed TFO when you don't know what to buy and you don't have time to order anything. Shipping times are awful this time of year, and once we've entered the 10-day out time period, it gets way more difficult. Fortunately, the Internet has granted us with many giving gestures — including two-day Amazon Prime shipping. If you're running out of time, you always know you can look for the best Christmas gifts on Amazon for your bestie.
Amazon is one of my favorite places for shopping for my best friends. You can find pretty much anything and everything, so you're guaranteed to choose a gift that works perfectly for your person. Is she a bookworm by heart? Easy. Does she have her eye on the latest and greatest in the tech world? No problem. Skincare fanatic? Amazon's your place.
Don't fret over what to get for your bestie this Christmas. These five Amazon gifts are too good to pass up. You'll want them for yourself, too.