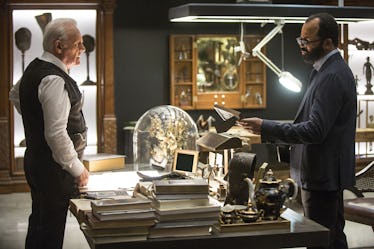 5 Bernard 'Westworld' Theories To Sink Your Teeth Into Before Season 2 Premieres
HBO
Westworld is a show that lives and dies on theories. The twists and turns of Season 1 dominated the discussion of the show when it came out in 2016. More importantly, those theories that Reddit came up with as a collective all turned out to be absolutely correct. So how are the theory makers doing ahead of Season 2? Currently, one of the favorite topics of discussion is Bernard Lowe, the man who turned out to be a Host. Let's run down the best Bernard Westworld theories for Westworld Season 2, in hopes that one of them might be the correct answer.
Bernard, for those who need a reminder, did not know he was a Host when Season 1 began. He talked about his little boy, who we learned had died of some disease. We saw him talking to his wife via video chat. He's sleeping with Head of Quality Assurance, Theresa.
But things didn't add up. Bernard at one point tells his wife "the pain" of his son Charlie "is all I have left of him," a line Dolores echoes word for word about her parents in the next episode. When shown a picture of the founders, Bernard sees two men and a weird blank space, in a photo that clearly has room for three men. By Episode 7, the answer becomes clear: Bernard is a Host, built by Ford in the image of his partner Arnold. Bernard has walked this loop of self-discovery many times, and each time his memory was wiped by Ford, just like the Hosts in the park.
So what will happen to him in Season 2? Here are the best theories.