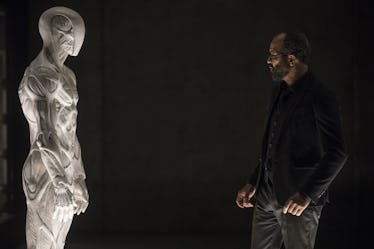 5 'Westworld' Season 2 Theories That Will Pump You Up For The Premiere
HBO
The first season of Westworld was full of twists and turns, driving fans over the edge trying to figure out what the puzzle was. Reddit went insane decoding every clue, but eventually, their collective brainpower figured it all out. Bernard was Arnold in Host format. Dolores was Wyatt in the old and new narratives. The Man in Black was William, 30 years in the future. So, what Westworld Season 2 theories could there be for fans to decipher?
Some things can be taken as assumed. Westworld loves their timeline games. For this coming season, fans should expect for there to be more timeline weirdness, more sequences that jump back and forth, and even perhaps scenes where we're seeing two timelines at the same time overlayed.
One theory that's pretty much debunked though: Dr. Ford having a host version. Anthony Hopkins has been confirmed as having left the show. There will be an actor playing a young version of Dr. Ford at some point in the series — that too was confirmed by the showrunners. But Ford, as we knew him in the present, is officially deceased. Dolores killed the real thing, not a Host version, making her the killer of both men who created Westworld.