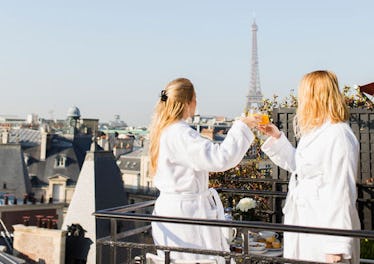 5 Airbnbs In Paris You'll Totally Louvre At First Sight
I don't know about you, but lately when I'm scrolling on Instagram it seems like everybody is in Paris. Travel bloggers are checking into the dreamiest Airbnbs in Paris, some of my fave contestants from Bachelor Nation are dining at the most gorgeous restaurants and posing in front of the Eiffel Tower for romantic pics. Did I totally miss the memo to purchase a plane ticket?
I suppose so. To be fair, I've already visited this city and all its beauty. I spent a few days there when I studied abroad and can vividly remember the moment I saw the historical and famous landmarks for the first time. If I close my eyes and think hard enough, I can also remember what the tasty and savory crepes were like and picture the patterns on the floor at the Palace of Versailles. I didn't see and do everything. (Although I did cover a majority of the city in basically a day, I missed out on a few museums and never posed with a baguette for Instagram.) So, in my lifetime, I need to go back.
When I do, I can pinky promise you I'll likely check into one of these Airbnbs. The past few times I've taken trips, I've stayed in stylish apartments and colorful homes via this travel service. And I have a feeling I'd love these five Airbnbs in the "City of Love" at first sight.