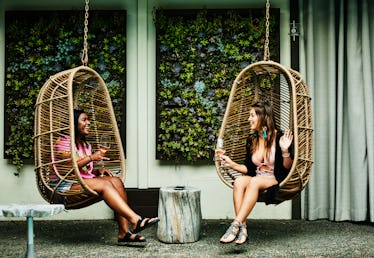 40 Wine Puns For IG Captions That Are So Bottle-full, You'll Be On Cloud Wine
Send some carefree vibes to your feed
It doesn't take much to fall head over heels in love with a glass of wine. Once that perfect bottle of red, white, or rosé blesses your tastebuds, you might feel inclined to raise your glass and capture some Instagram moments. Since you don't plan on trading in your adult grape juice for a cocktail anytime soon, you'll need wine puns for those #WineWednesday and #ThirstyThursday captions.
Whether you're enjoying a glass while streaming your fave TV show or sippin' with your partner in the backyard, whenever there's wine involved, you know you have to stop and snap away. You are here for that "rosé all day" life in the summer (and every other season), and it's safe to say frosé pictures have graced your feed more than once. So, you might as well express your true feels for wine ASAP, and start sharing your journey of sipping.
Whatever type of wine situation you might find yourself in, there's a pun that pairs perfectly with it. Your punny wine captions will send some carefree vibes to your feed. If you want your followers to wear a smile just as big as yours, pour yourself a glass and let any of these captions give them a taste of the good life.
"Wine a little, laugh a lot."
"Say you'll be wine."
"You had me at merlot."
"Here for the right riesling."
"Will you accept this rosé?"
"You can't sip with us."
"Time to wine down."
"Sip, sip, hooray."
"It isn't good to keep things bottled up."
"Read between the wines."
"On cloud wine."
"My day just went from super to sip-erb, real quick."
"Cabernet. More like, caber-yay!"
"Hakuna Moscato. It means drink wine."
"Adulting makes me wine."
"Partners in wine."
"No wine left behind."
"Be kind, re-wine."
"Feeling grape."
"Sip happens."
"Once upon a wine."
"It's wine o'clock."
"Stop and smell the rosé."
"Is that a yay or cabernet?"
"Everything happens for a riesling."
"Back that glass up."
"Giving you more reasons to wine."
"What a wine-derful world."
"Love the wine you're with."
"Grape times."
"Not wine-ing about this view."
"Chardonnay or should I go?"
"Rosé all day."
"Let's get fizzical. Pass the prosecco."
"Oh, sweet child of wine."
"Let's re-wine this day, please."
"You're the wine that I want."
"You are so bottle-full to me."
"Another glass? Wine not?!"
This article was originally published on