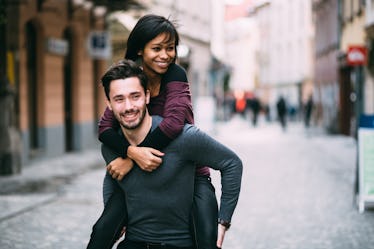 4 Zodiac Signs Who Hate Texting & Would Rather Catch Up IRL
Shutterstock
According to my former grade school teachers, I am somewhat infamously known for my chattiness. I love to talk and relate to others all day every day, which is quintessential to my experience as a Gemini. There are, however, numerous signs of the zodiac that don't exactly love to talk all the time, especially via texting. Even in 2019, there are definitely a few zodiac signs who hate texting and would rather catch up IRL because they connect with others better that way.
So, what's the big deal, right? Well, if you're being left on read by a crush, it could be useful to know if they're one of the following signs. For instance, I have a few Aquarius best friends, and I literally always have to text them first. For a long time, I felt like their lack of texting me was a reflection of how much they cared about me and was subsequently bummed by our pattern of communication. I eventually brought up our texting discrepancy, only to be pleasantly surprised by them. My Aquarius loved ones were totally unaware that I felt down about how little we talked via texting. They explained that they really don't maintain relationships or communication through conversational texting because they prefer to connect with others IRL. Ever since I touched base with them, our relationship has blossomed from because of our deeper understanding of each other.
To get the scoop on the signs that prefer to connect in person rather than through a screen, check out the following insights.