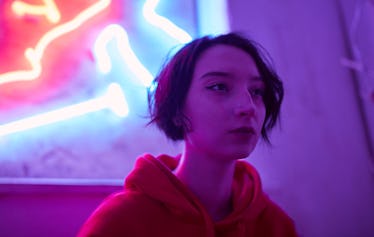 8 Scorpios Reveal The Trick To Dating Them, So Tune In
Scorpios have a brooding intensity that can be downright enchanting. They are one of the most passionate signs of the zodiac, with a firm outer shell that an be tough to crack. As water signs, these individuals have a deep wealth of connectivity with their emotions. They also have a very discerning eye for genuine connections, risky relationships, and people that are not necessarily worth their time. Because of their boldness, this sign can be a bit hard to read. It honestly might help to hear a few Scorpios reveal the trick to dating them because sometimes it can be really useful to go directly to the source.
You may be surprised to hear that Scorpios are loyal AF and when they fall in love, they fall hard. As a result, their intense feelings are like icebergs: only a portion of them are truly visible. Beneath their walled exterior, there's a depth to this sign that is vast and incredibly varied. These folks can sometimes feel like a bit of an outsider, as evidenced by Scorpio musician Frank Ocean's song "UFO," in which he sings lyrics like, "I came to visit 'cause you see me like a UFO." Put plainly: Scorpios can seem cold, aloof, and a tad intimidating. But on the inside, they have a sprawling landscape of feelings, intuition, and desire for an intimate connection with a few special people.
If you're trying to crack the code of your Scorpio crush, the following insight might be a big help.