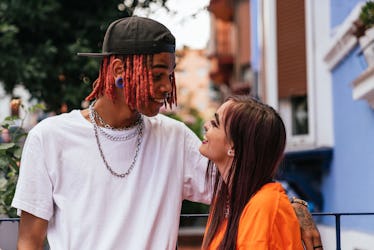 4 Zodiac Signs Who Almost Always Avoid Confrontation In Relationships
How comfortable are you and your partner with confronting issues head on? Do you tend to address the problem right away, prefer to just brush it off, or hold onto it quietly until you finally can't hold back anymore? If either of the last two scenarios are resonating with you, there's a good chance you might be one of the zodiac signs who aren't confrontational in relationships, because you just want to get along.
Honestly, there is nothing wrong with keeping the peace. Some signs seek to avoid conflict because they really want to pick and choose their battles carefully, while others might have a harder time feeling comfortable expressing negative emotions, and tend to hold them in until they can't anymore. This is why, if you happen to be dating any of these signs, one way to help them feel seen and appreciated is to be on the lookout for more subtle clues that they have something on their mind, and offer them the opportunity to express themselves safely without it feeling like a big argument. Even if you don't like conflict, being open about issues with your partner is an important form of communication, and can lead to more emotional intimacy. With that in mind, here are the signs that avoid conflict whenever possible.