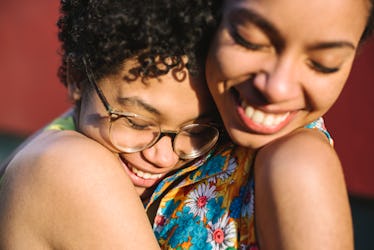 4 Zodiac Signs That Make Amazing FWBs, According To Astrologers
Friendship rocks: You can eat snacks, share stories, watch movies, and sometimes you can have some sexy fun in a low-key way. If you're into kissing your pals or like to keep your romantic relationships casual, a friends with benefits situation may be totally for you. Of course, when it comes to love and romance, it can totally fun to see how astrology factors into how you live your life. And if you're likely to keep it cas,' chances are you may be one of the four zodiac signs that make amazing friends with benefits.
"Some zodiac signs prefer commitment, while others are totally cool with a light hookup amongst friends," astrologer Lisa Stardust tells Elite Daily. "These are the four signs that are able to keep the heat in the friendship and bedroom at all times — without jealousy." A friends with benefits agreement isn't for everyone, and if you're looking for something serious, it's always OK to establish your boundaries with a boo before getting frisky. Casual hookups sometimes take a lot of communication and care.
If you're super into casual hookups or you like to have friends with benefits, you may be one of these four signs.