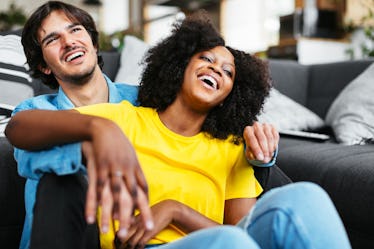 4 Chill Zodiac Signs That'll Always Let You Pick What You Netflix
If I were to break down what constitutes the foundation in my relationship, it would probably be something like love, laughter, romance, and Netflix. Is that healthy? I don't know, but it's real. Netflix has basically become the background noise to our lives and the default way we chill we we need to relax. As you can imagine, this could be a real problem if we fought over the remote and neither of us were zodiac signs that let you pick the TV show. Fortunately, my partner is a chill Taurus who is happy to go with the flow so that my Virgo self can (mostly) be in charge of programming. It also helps that we have lots of overlap in the things we're interested in watching, He's up for a Sabrina marathon with me, and I am happy to go full dark with an all-in-one-day viewing of Mindhunters. (OK, maybe that wasn't our best idea ever.) The key, I suppose, is to find that balance, which tends to mean one person is flexible about what to stream, while the other has, ahem... stronger opinions.
So, which are you? Are you happy to stream along, or are you the remote warrior? If it's the latter, then the following chill zodiac sign just may be your perfect TV-marathoning companion.