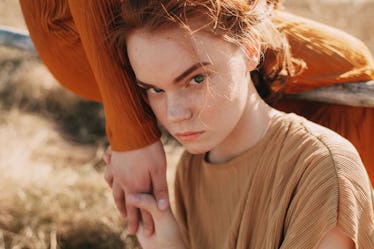 If You Tend To Get Jealous In Relationships, You're Probably One Of These 4 Signs
Chances are, at some point you've probably had a moment when your jealousy got the best of you — when your heart started pounding and your stomach sank as the reality (real or imagined) that you'd been betrayed sinks in. To have moments of jealousy is just part of the human experience, even though it can be a real bummer to face and destructive if left unchecked. For some folks who happen to be born under zodiac signs that get the most jealous in relationships, this can be even more of a struggle than for others. Part of being able to reign in those feelings is understanding where they're coming from, so that you can take a beat and assess if what you're feeling is justified, or just your natural inclination.
As a Virgo — one of the signs for whom the jealousy struggle is real — it's always helpful to remind myself that I have a naturally suspicious mind. This helps combat some of my mistrustful or envious self-talk before it gets the better of me and I'm sneaking peeks into my partner's phone. If that sounds more familiar than you'd like to admit, chances are you are one of the zodiac signs that have a tendency to fall prey to the green-eyed monster.