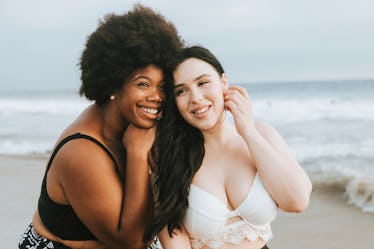 4 Zodiac Signs Most Sexually Compatible With Virgo, So Expect A GCal Invite
Shutterstock
Don't sleep on Virgos. Although these earth signs have a reputation for being a little bit uptight, they're always thinking of others. Their knack for listening, communicating, and understanding what others need definitely comes in handy in the bedroom (pun very much intended). More good news: There are a couple of lucky zodiac signs most sexually compatible with Virgos. And if you're one of the following four signs, you're in for a real treat.
Need an example of Virgo's sex appeal? Look no further than Queen Bey herself. Beyoncé demonstrates her sexual confidence in her music, with lyrics like, "Driver roll up the partition, please. I don't need you seeing 'Yonce on her knees. It took 45 minutes to get all dressed up, we ain't even gonna make it to this club." Bow down.
Additionally, Virgos are compassionate and always go the extra mile. In the bedroom, this can mean pulling out all the stops and leaving their partners speechless. When it comes to sex, Virgos always bring their "A" game. They work particularly well with other signs that encourage their spontaneity. And when a Virgo finds their perfect sexual partner, all bets are off.
The following signs are sure to make Virgo weak in the knees.