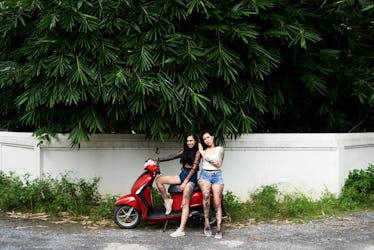 4 Signs You've Found Your Ride Or Die, Because Every Day Is An Adventure
If you're dating someone who would do anything for you, go anywhere with you, and generally be by your side through it all, it's possible that you've found your ride or die. This phrase can mean a lot of things to different folks, and many types of relationships can be ride or die. It can feel pretty amazing to know someone has your back in this way.
When your partner is your ride or die, there's something extra special about that thrill of having an adventure-buddy through thick and thin. As opposed to concepts like "The One" or "End Game," the "Ride or Die" relationship may be your most exciting (and potentially turbulent) union. When you're with "The One," you may very well have found the person you could see yourself settling down with. A "ride or die" is along for the journey, as life unfolds. This is the person that you might try new things with, travel, and take up an exciting hobby. A "ride or die" partner is someone who books you a plane ticket to the place you've both always wanted to visit, or (like the phrase suggests), would hop on the back of your Harley and ride off into the sunset together.
Ultimately, this partnership can be super beautiful and amazing. If your relationship has any of the following features, it's amazing you've found a person that fits with you so well and is prepared for an adventure of a life with you.