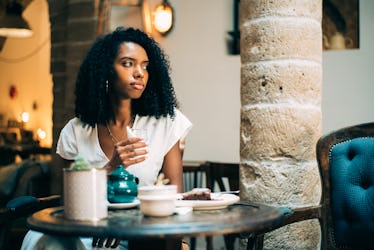 4 Zodiac Signs Most Likely To Stand You Up, So Beware
After weeks of some not-so-subtle flirting with your barista, they finally ask you out. In a romantic rush, you make plans. You pick an outfit. You take three separate trains to the good dumpling place across town. As the minutes pass, you glance at your phone to confirm that this morning your date sent you a confirmation text. And yet, close to an hour later, with no date in sight, you start to feel a little more dumped than your dumplings. It's not always easy to tell which cuties are likely to stand you up. If there's been some serious sparks flying or you've been texting endlessly, your date never showing up can make you start to question everything.
Of course, if you're no longer feeling up for a date, you're totally allowed to cancel. Still, calling or texting your date — well before the plans actually begins — to say that there will be a no-show, is a considerate practice. And while astrology can't dictate everything, it can be fun to see how someone's zodiac sign impacts the way they date.
If you've ever been completely stood up, chances are your date may have been an Aries, Gemini, Leo, or Sagittarius.