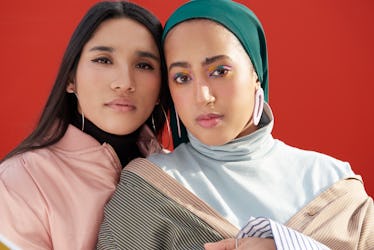 4 Zodiac Pairings That'll Fall In Love This Valentine's Day
Boxes of chocolates and stuffed bears fill the shelves of CVS. Children hoard red-and-pink Fun Dip packets. Sappy John Legend songs play on the radio. No matter who you are, it's hard to deny the excitement and romance that comes with Feb. 14. And of course, for the zodiac pairings that will fall in love this Valentine's Day, the holiday may be a little extra special.
Whether you've been casually seeing someone for a while or you're at the start of something new, Valentine's Day 2021 may be a time to really go the distance. For some signs, the energy stemming from the Great Conjunction (during which Jupiter and Saturn joined forces in Aquarius on Dec. 21, 2020 for the first time in over 600 years) will make the likelihood of a V-Day love story even greater. In February, Venus enters eccentric, community-oriented, and independent Aquarius, and as Venus collides with unpredictable Uranus, you can expect a lot of surprises (especially in the realm of romance) to lead the way.
If you're curious to know who's going to drop an "ILY" real soon, here are the four zodiac pairings most likely to fall head over heels with each other on Valentine's Day 2021.
This article was originally published on