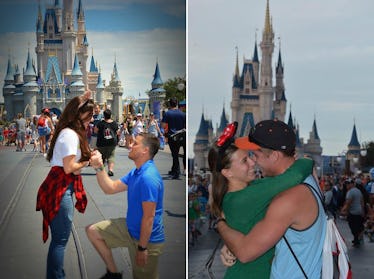 4 Women Who Got Engaged At Disney Revealed Why It Was So Special
Photos Courtesy of Lynette Torres & Laura Meyer
I don't know about you, but when I was growing up, all I wanted to do was go to Disney. I still haven't gone, but it's always been a dream of mine. For those lucky enough to get engaged at Disney, it's safe to say the theme parks mean even more. Disney is the perfect backdrop for a fairytale proposal; the castle, the princesses, and the atmosphere in general all make for a real-life dream come true. These women who got engaged at Disney are proof that these magical proposals make saying yes that much easier.
The magical world of Disney is home to some of the most classic fairy-tale love stories. So many of us have grown up with these romantic fantasies about love because of Disney movies. Heck, these stories have shaped entire generations! And while a Disney proposal isn't for everyone, it can mean the world to those who love the magic, and hearing from actual women who've experienced it might just make you want the same thing for yourself.
Better than any fairytale, these stories are 100% true. So grab a tissue and some Dole Whip, because you might just shed a happy tear or two.