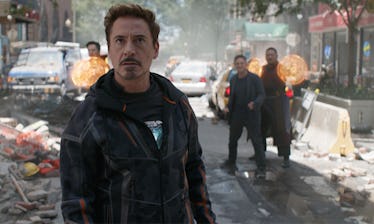 4 Ways To Stream 'The Avengers' To Refresh Your Memory Before 'Infinity War' Premieres
Marvel
It's almost time for The Avengers to re-assemble on the big screen for the hotly anticipated superhero spectacular Avengers: Infinity War, which opens April 27, 2018 (as if you didn't know that). It's hard to recall a cinematic world where fans weren't constantly awaiting these characters to hit theaters in one way or another — be it through a standalone film like Captain America: Civil War or an ensemble extravaganza like next week's release. Need an MCU refresher? Go back to where it all began. There are a handful of ways to stream The Avengers before you check out Infinity War.
The inaugural Avengers movie came out over five years ago in 2012, and even though there have been what feels like a zillion films related to it and supporting its ongoing narrative over the years (the world has met additions Doctor Strange, Black Panther, and Valkyrie since then, to name a few), the franchise kicked off with Marvel's the Avengers. The film was a massive critical victory and one of the year's biggest box office success stories. Follow-ups were pretty much inevitable. Behold, 2015's Avengers: Age of Ultron and this month's installment.
After all that, Infinity War is bound to be a (Hulk) smash. Directors the Russo brothers have discussed what makes the film unique, explaining just how central Thanos (Josh Brolin) is to the narrative:
With Infinity War, the biggest new element to the movie is Thanos and the fact that he's entering the storytelling in a very bold, strong way, to the degree that he's almost one of the leads. We've shaped an interesting narrative around him that in some ways leans heavily on a heist film in the fact that he's going after the infinity stones in a much bolder, successful way than he has in the past. The entire movie has that energy of the bad guy being one step ahead of the heroes. We looked at a lot of movies that had that heist-style energy to them, [and] that brought some inspiration.
One element audiences are looking forward to seeing is the inclusion of T'Challa aka Black Panther. His solo movie did become the highest-grossing superhero movie in the US of all time, after all. Chadwick Boseman spoke about how Wakanda will play a part in Avengers, explaining,
From Black Panther, you are going into the world of Wakanda. They are more technologically advanced than any other nation on the planet. You are seeing some gadgets and some technology and merger of those things with spirituality in a way that you didn't see in Civil War, but that is because you are coming into their space. Now you get the opportunity to see it.
With all that bouncing through your brain, where can you watch the original Avengers to get ready for Infinity War?
1. Amazon Instant Video
The film is available to rent and purchase on Amazon.
2. Vudu
Vudu serves up options to rent and buy the Marvel mega-hit.
3. iTunes
You can buy or rent the film via iTunes.
4. YouTube
Purchase or rent the full-length film courtesy of YouTube Movies.
Watching Avengers is just one way to pump yourself up for the latest Avengers event. There's also the activity of just going all out and marathoning every possible recent film relevant to MCU, from Captain America: Winter Soldier to Guardians of the Galaxy to Ant-Man. Sure — it might take all weekend, but you'll be sufficiently ready for Infinity War's epic debut.
Avengers: Infinity War will be released everywhere on Friday, April 27, 2018. But that's not all. The untitled Avengers 4 (yup, there's more) is slated to come out May 3, 2019.