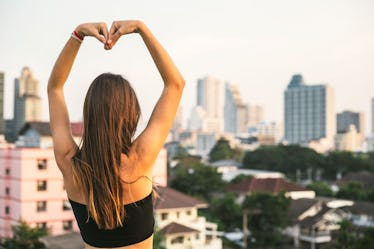 4 Ways A Dating Detox Can Energize Your Love Life & Make You Happier
You've probably heard of detoxes for your health, like doing a juice cleanse or giving up alcohol for a set amount of time. Turns out, trying a dating detox can be just as good for your health as any juice cleanse. If you're experiencing dating app fatigue or feeling burnt out on dating in general, detoxing from dating might be just what you need to restore your faith in love. By taking some time to focus on your non-romantic relationships and interests, you can enjoy a much-needed break from the dating scene. Then, when you're ready to reassess your priorities, you can do so with an open heart and a clear mind.
I spoke to Dana Czachorowski, MA, LPC, licensed therapist and relationship expert at coaching site Shinefiercely, about the benefits that taking a break from dating can have on your overall health and happiness, and how a dating detox can actually improve your love life later on. She highlighted signs you're ready to detox from dating, as well as some specific guidelines to follow to make the most of your time off. Here are four ways a dating detox can re-invigorate your love life and make you happier in the long-term.