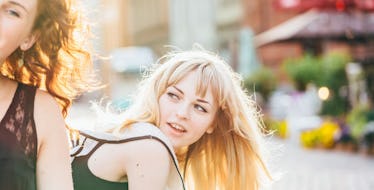 A Therapist Reveals 4 Signs You Love Yourself & Are Ready For A Relationship
You've probably been told once or twice that you can only find love once you "love yourself." While this phrase can be overused and ignores the plight for those who live with mental illness, there can be some truth at the bottom of it. It's unrealistic to demand that you love every single aspect of yourself, but it might be realistic to demand what you deserve in a relationship, and not settle. If you love yourself and are ready for a relationship, that means you're already appreciate who you are.
Loving yourself isn't some unattainable goal where you literally think you're perfect. To get more of an idea what loving yourself realistically looks like, and how to know if you're already there in terms of finding a relationship, I spoke to Clarissa Silva, behavioral scientist and relationship coach.
According to Silva, your ability to be self-aware is directly linked to your readiness for love.
"Self-awareness is one of the keys to our relationship decision-making process," Silva tells Elite Daily. "When you're self-aware, you'll find what you accept for yourself and what helps you decide on who, when, and how to love."
She says that lacking self-awareness can lead to accepting a relationship or love that's less than you deserve. So think about what you want and what you're looking for in a relationship or from love. The following are ideas from Silva on how to love yourself.