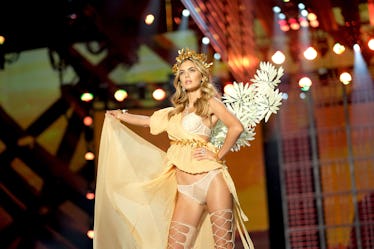 The Best Victoria's Secret Black Friday Deals That Are Seriously Angelic
Matt Winkelmeyer/Getty Images Entertainment/Getty Images
Victoria's Secret has always been a magical wonderland that women could shop in all day long. It's a store designed to fit so many needs, even when we are wearing close to nothing. Victoria's Secret Black Friday deals 2017 are more than just a discount — they're a livelihood that we have no problem indulging in every single year.
Call it being somewhat dramatic, but the second Victoria's Secret even mentions a sale or discount, our first instinct is to run. And let's be real here, the products are so durable and really make you feel amazing. None of us are angels who casually fell from the heavens, but their products have always made us feel so heavenly.
While the full scoop isn't out about the specific snags you're going to save on, what has been revealed so far is enticing AF. I mean, if this is just a glimpse at what's really in store for us all, our hopeful hearts are jumping for joy. Nothing feels better than being an accomplished shopper on Black Friday and knowing that you scored the best deals. Victoria may have the "secret" part down for now, but get excited about the subtle perks that have been relayed so far.