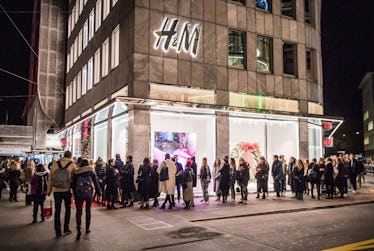 H&M's Black Friday Sales Are So Insane, You Won't Want To Shop Anywhere Else
Remy Steiner/Getty Images Entertainment/Getty Images
To say I'm not a big Black Friday shopper would be a gross understatement. The thought of waiting in line for hours only to fight my way through a crowd of seasoned shoppers makes me feel anxious AF. The H&M Black Friday 2017 Sales, which don't require my presence to shop, are much more my speed.
In the spirit of true holiday generosity, H&M launched their yearly sales earlier this week, which apply both in stores and online. Needless to say, I'll be reaping their benefits from the comfort of my couch. I realize that my refusal to get off my laptop and shop from real clothing racks makes me one step closer to becoming one of those chair-bound, screen-obsessedWALL-E characters, but this sale is just too dang good to shop amid any distractions.
If you are a brave soul who likes to get in on Black Friday sales IRL, I salute you. The in-store sale started on Nov. 14 and will extend through Nov. 27. Smaller items start with price tags as low as $3, while beauty products are an impressive 40 percent off. If you're in the market for a new sweater, don't sleep on this sale; some are priced as low as $7, which is what I pay for a pair of poor-quality underwear. On Thanksgiving Day, stores will open at 2 p.m. EST, ensuring you'll have plenty of time to pop in either pre-or post-turkey.
The online sale also extends from Nov. 14- Nov. 17, and offers up to 70 percent off of select items, meaning my bank account is about to diminish exponentially. Here are some of the best deals currently on the site, aka the components of my future wardrobe.
Check This Box
I LOVE this bag's structured boxy shape and color-blocked design. It's super roomy, meaning it can fit the giant tube of lotion I carry with me in the winter to keep my skin from cracking off. Plus, the gorgeous suede looks expensive AF.
Cherry On Top
I've never met a cherry print I didn't like! I need this for holiday parties — it would look killer with sheer black tights, patent booties, and a matte red lip.
Leggings That Will Inspire Me To Exercise
Whenever I get new gym clothes, I find myself working out way more often. Pair that with the fact that all of my athletic wear is black, and it's as good of an excuse as any to indulge in these cheery leggings.
Ice, Ice, Baby
I danced ballet growing up and when I got older, I was regularly cast at the Snow Queen in my dance studio's production of The Nutcracker. With its ice blue color and long, ruffled pleats reminiscent of a romantic tutu, this skirt is bringing me back to my days en pointe!
Not Stan Smith Sneakers
For under $20, these sneakers are a steal. They're a way cooler, glitzy iteration of the all-white version that everyone already owns. Why not emblazon your feet with glittery stars?
Jeans That I Don't Already Own
One of my big shopping goals is to buy denim with some sort of cool detail or design element. I own far too many pairs of plain vintage Levi's, and realized that a stripe, grommets, or unique wash can go a long way in terms of elevating an outfit. These striped jeans would make for an easily killer winter look with a black turtleneck and heeled booties.
A Blouse For Any Zodiac House
This is the universe, but in wearable form. This top is so versatile (I would wear it with jeans, black denim, any skirt, track pants...the list goes on), and it has baby ruffles around its neck. Adore.
Kinda Sweet, Kinda Tough Denim Jacket
While I wish I could afford an embroidered Gucci denim jacket, this is a pretty excellent alternative.
Tee Time
I'm a sucker for anything remotely '70s and love a good basic. This ringer tee is both! Sold and sold.