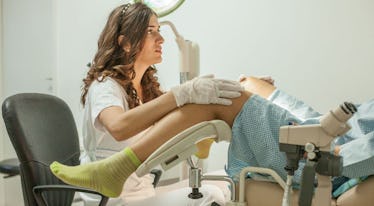 4 Totally Normal Things That Happen To Everyone At The Gyno, So Relax
Visiting a gynecologist for the first time can be a very nerve-wracking experience for many women. Being nervous to have your most intimate areas examined by a stranger is naturally a very normal thing. But the truth is that regular trips to the gyno are an important part of maintaining your sexual and reproductive health, so while it may not be the most fun, knowing that everything is as it should be down there is worth the discomfort. Learning more about the things that happen to everyone at the gyno is a great way to help ease any residual worries you might have.
I spoke to Crystal Bowe, MD, MPH, a North Carolina-based family physician, to find out what a new patient can expect from their first gynecological exam. "When you have your first gynecologic exam, it is normal to be nervous, but you should relax because the visit will not be nearly as bad as you think," Dr. Bowe tells Elite Daily. "First, remember that you do not have to do anything you are not comfortable with. Also, remember that your doctor is a trained professional with over a decade of experience before they ever saw their first patient. They have heard and seen it all before. So you should not feel uncomfortable or ashamed of any questions or issues you are having."