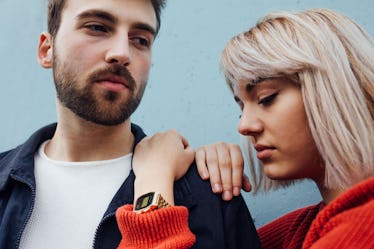 4 Things You'll Notice If Your Significant Other Isn't Committed, According To Experts
Committing to someone special can be a big step for a relationship, but the fact that "commitment" can mean different things to different people can complicate things a little. While you and your partner may define commitment differently, there are a few factors that are pretty standard indicators of commitment, or lack thereof. Some of the things you'll notice if your significant other isn't committed may be more subtle, like the words bae uses, or more specifically, doesn't use. Or they could be on a much bigger scale, like not wanting to make any plans together in the near or distant future.
How you approach the topic of commitment with your SO varies depending on the kind of person they are and the relationship the two of you have. If "you are dating a super independent type, they may rubber band (need to pull away for 'space' to make sure you don't try to control them) before coming closer and diving into deeper intimacy and commitment," Diana Dorell, intuitive dating coach and author of The Dating Mirror: Trust Again, Love Again, tells Elite Daily. "Pushing for the 'C word' too soon can backfire and feel like unnecessary pressure, but it's also important to be true to yourself. Define what 'full commitment' means to each of you so you know what it is and how to communicate that to them."
Once you and bae have talked about what commitment means to each of you, you may start to notice a shift in the way they act. Maybe they'll start doing things that provide you with a sense of comfort that you're both on the same page, or at least working toward it. Or maybe after talking it over, your SO may be hesitant to fully commit to you the way you deserve, which isn't fair — especially if you're all-in and have been since day one. Here are three things you may notice if your case is the latter.