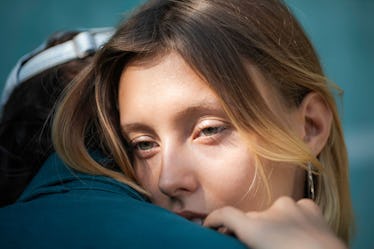 Experts Reveal 4 Things You'll Notice If Your Partner Is Unhappy In Your Relationship
If you're in an exclusive relationship, and you've noticed that your partner seems disconnected or distracted by something, it might be hard to pinpoint what's on their mind. (Especially if they aren't great communicators.) It is, of course, possible they just have a lot on their plate with work or school, but if you notice that their behavior is directly related to spending time with you, it could be a sign of deeper issues they might be having. There are a few things you'll notice if your partner is unhappy in your relationship, and they can be important to take note of.
According to experts, there are certain things that will stand out if bae is unhappy with you and your relationship, specifically. "Everything falls apart quickly," Susan Trombetti, matchmaker and CEO of Exclusive Matchmaking, tells Elite Daily. "Depending on the reasons behind it, you may or may not be able to put it back together. Trust me, you want to see the signs, too, so you can at least notice, and try to work it out if that is what you want."
Here are four things to keep an eye out for if you think your boo may be unhappy.