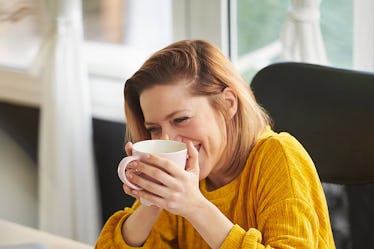 4 Things You'll Notice About Yourself When You're Starting To Heal From Heartbreak
There are typically a ton of feelings involved when a relationship ends. Whether the breakup was mutual, or one-sided, heartbreak tends to follow, and it can feel all-consuming. But there's nothing quite as satisfying as when you realize you're starting to feel like yourself again. There's no set timeline as to how long it takes to get over someone, but there are several things you'll notice about yourself when you're starting to heal from heartbreak, and let me tell you: It feels good.
Heartbreak is hard, and as obvious as that sounds, it's the honest truth. Even if you initiated the breakup, sometimes it's not easy to say good bye to someone who once meant a lot to you. However, healing is possible, and going through it can teach you a ton about yourself. Whether you dated someone for a month, a year, five years, or anything in between, there's no denying the fact that you may feel an absence in your life where that person used to be post-breakup. Don't feel guilty for being sad or mourning the loss of your relationship, because you have every right to!
However, it's important to pay attention to yourself and your needs, because healing after a breakup looks differently for everyone.