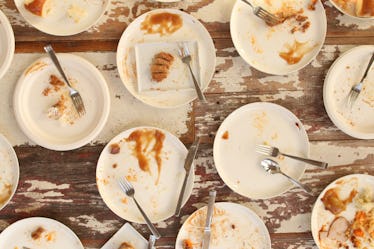 4 Thanksgiving Outfit Ideas To Keep You Comfy AF All Day Long, Based On Your Personality
Thanksgiving means eating delicious food and spending time with loved ones, but it also means having to dress well enough in front of your family to convince them you're a fully functional adult. The best outfits to wear on Thanksgiving require a true balancing act; you want to celebrate the gluttonous holiday in both style and comfort.
From my totally biased point of view, a savvy Thanksgiving outfit is paramount. Think about it, you have to dress well for your relatives, especially those nosy grandparents who keep asking if you have a boyfriend yet, but not too fancy if you have anything to do with cooking up the feast. An apron can only do so much. You have to be weather appropriate (if you live above the Mason-Dixon line), but if your house is anything like my parents' and the oven turns it into a literal sauna, you need layers to be able to take on and off. Have I sufficiently stressed you out, yet? Good!
Assuming you're not the Chandler Bing of your family or friend group, and you're just as excited for Nov. 23 as I am, it's time to start outfit planning. I've curated four chic Thanksgiving outfits based on your role in the big day, so you can look stylish for whatever comes your way.
For The Hostess/Monica From Friends
If you're the Monica of your family or friend group, you'll be doing the majority of the cooking, but that doesn't mean you can't look fly. This maroon midi skirt will ensure you don't flash your guests when you bend over to check the pies in the oven, and the waist band is elastic, so you can sample every dish you concoct and then eat again with your guests.
A boat-neck cotton shirt on top is a step up from a grungy T-shirt, but just as comfortable. Black will also hide any sweat stains incurred while running around like the Monica you are.
Throw this sparkler on once you're done cooking, and you'll look just as put together as all your guests who have been lounging around drinking while you've been slaving over a hot stove. Can you say hostess with the mostest?
For The Diva Who Doesn't Wanna Be Asked To Help
You can't be bothered to cook, and maybe that's for the best, since your idea of cooking is plating the food you ordered on Seamless. This off-the-shoulder dress emits your innate diva vibes because you obviously can't cook in those bell-sleeves, please. But the body-skimming fit will make sure you can have that extra serving of stuffing without feeling like an overstuffed turkey yourself.
A sparkly ear cuff is the ultimate diva accessory. No one is going to ask for your help in the kitchen with this bad boy on. Throw on your highest heels, and all you'll have to worry about is how full your wine glass is.
For The Progressive Woman With A Progressive Dinner
If you have a Gilmore Girls-style Deep-Fried Korean Thanksgiving marathon in the works, these leggings that don't even look like leggings are ideal. You can hit up every hotspot on your list with ease.
A festive, oversized sweater will work wonders on top of those leggings, plus the embellishments mean no jewelry necessary.
These shoes barely qualify as sneakers, in a good way. A comfortable shoe like this will get you through the multiple meals you have to hit, while still ensuring you don't look like you're coming straight from the gym.
For The Girl Who Can't Be Bothered Even On Thanksgiving
Is there anything more comfortable than a sweater dress? The answer is no, resoundingly no. Throw on this cozy slice of heaven and honestly whatever the f*ck shoes you want and you're done.
Seriously, though, where's the turkey? I'm hungry.