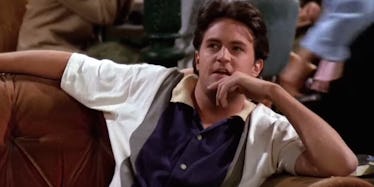 Someone Made A Chandler Bing 'Hotline Bling' Mashup And It's Everything
Drake's "Hotline Bling" just got the Chandler Bing treatment, and if you're a fan of "Friends," Matthew Perry, or laughter in general, you're going to want to see this.
The brilliant folks at Comedy Central India compiled clips of Chandler Bing's signature awkward dance moves and set the footage to Drake's "Hotline Bling" to create a hilarious, "Friends"-ified version of the song.
Through creative editing, the video's creators managed to re-name the song from "Hotline Bling" to the infinitely more appropriate "Hotline Bing." and even gave Chandler the opportunity to "sing" his favorite lines.
The lyrical changes are entertaining, but it's Chandler's dancing — painfully reminiscent of Drake's moves in the official music video — that makes this parody a true gem.
Watch it below.
Okay, so we got Chandler to dance to our tune... No, not ours.#FRIENDSonCC, Mon-Fri, 10 PM. Posted by Comedy Central India on Sunday, February 14, 2016
Citations: Finally, Someone Made the Chandler Bing/"Hotline Bling" Mashup the World Has Been Waiting For (E! Online)