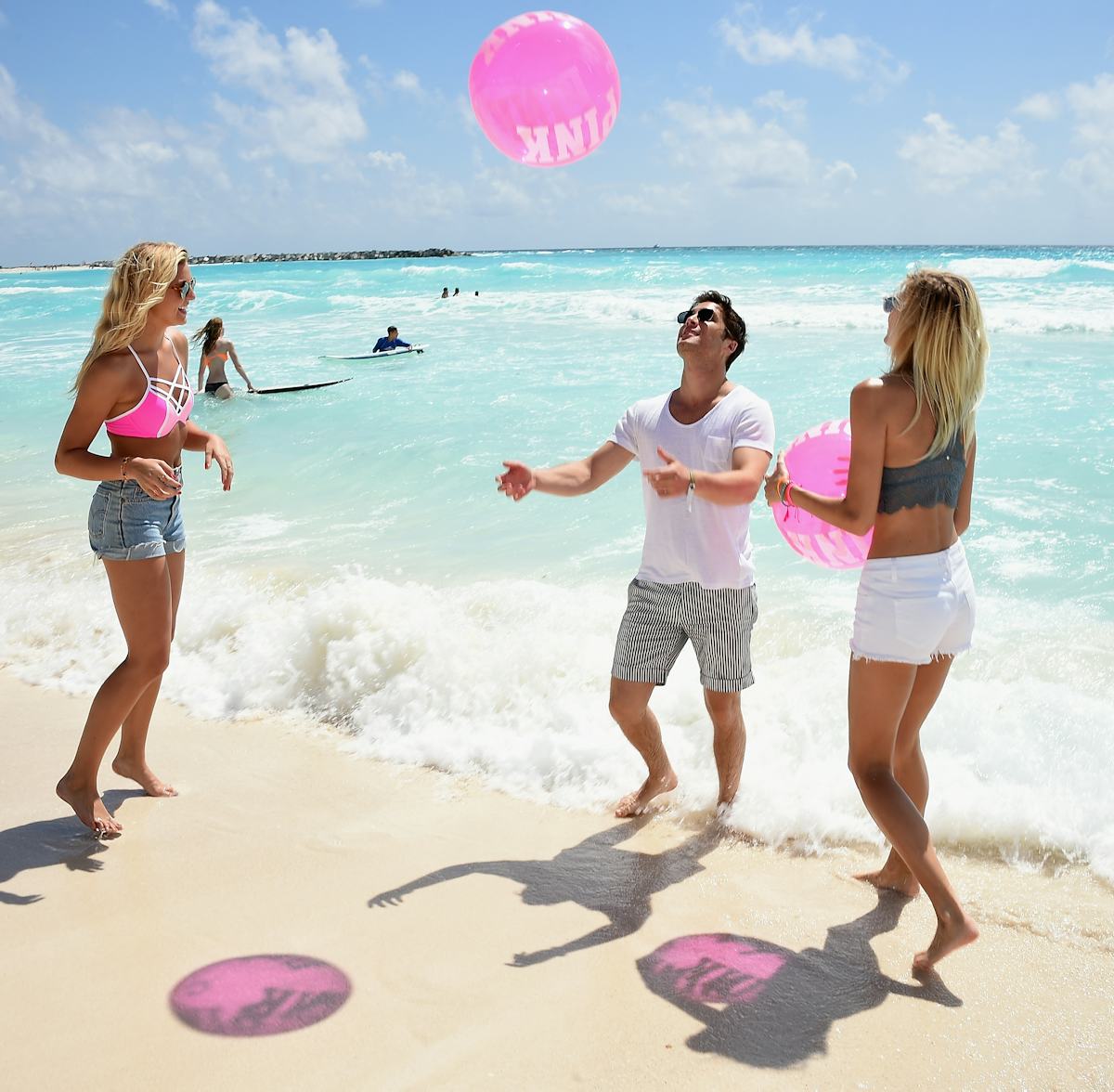 4 Spring Break Outfits With Denim Shorts, Because Who Doesn't Want To Live In Jorts?
Dimitrios Kambouris/Getty Images Entertainment/Getty Images
I hate packing for vacations. Figuring out what looks to bring for various events and situations that I might encounter stresses me the F out. So to help you pack for your upcoming epic vacation, I've put together four spring break outfits with jean shorts that are fitting for days in the sand, nights out dancing, and more. Because chances are, you already own jean shorts, so even if you're not in the shopping mood, these looks can help guide what in your closet you'll want to bring.
The beautiful thing about nine out of ten warm weather spring break locations is that none of them require you to ever get that dressed up. Yes, sandals might be required to get into a club or two, but in my four years of college spring break-ing I was never rejected from a door for wearing shorts. Granted, I made sure to dress them up with nicer tops and accessories, but still, the standards were nowhere near New York-strict.
Beyond going out, you'll likely be wearing cutoffs to pool parties, the beach, dinners, and more, so you'll need an array of shirts, shoes, jewelry options, and sunnies to satisfy your sartorial needs. Here are some ideas to fill your suitcase with.
Beach Day
Let's be real, when you're headed to the beach comfort and practicality are key. You'll need a hat with a bill to block out the sun for if you like to read (or see, in general); a pair of sunnies; and a bikini. While simple, these options are cost effective and functional, yet still fashionable and cool. Paired with cutoff denim shorts, which are the optimal shorts style for the beach (I like to let as many rays as possible hit me on intentionally sun soaked days), the selection will complete all of your wearable needs. Just don't forget your iPod, reading material, and sunscreen!
Shopping & Brunch
For the days when you're not sprawled out in the sand or partying it up, you'll want a put-together outfit that makes you feel trendy and dressed up enough to hit any shopping or dining spot. Embroidery and hemming always make denim shorts more elevated and the below pair, which are outfitted with little stitched strawberries, add a hint of playfulness. Paired with a gingham top, retro sunnies, and a small mule heel, the look is trendy and coordinated yet still packs some spring break flavor.
Beach Party
I'll be straight with you — this was my favorite spring break event. There's nothing quite like dancing in the sand with a group of your friends and feeling the sun kiss your skin — it's magical! Beach parties are also the perfect time to wear you wildest bikini and brightest sunglasses, but just make sure you bring a bag that zips up and is preferably hands-free. The below cheetah bikini is bright, patterned, and still sexy, rendering it the perfect top for the occasion. The matching orange and black shades will make you stand out among a sea of sunglasses-clad heads, while the simple black fanny pack will ensure your items stay safe. It even boasts a little zip compartment on the side closest to your body, which is optimal for valuables like keys, phones, and credit cards. Party on.
Night Out
When it's hot out or when I'm on a warm weather vacation, high waisted black jean shorts are my go-to going out bottoms. I like to balance them out with a long sleeved crop top, and typically opt for chunky heels to feel ultra flirty. This billowy top is the shirt of my dreams, thanks to it's red hot color and peek-a-boo neckline, while the heels have a woven pattern that scream spring break. Formal, but not overly so.