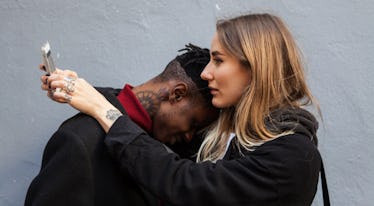 How To Tell If You're Dating Someone Just To Make Your Ex Jealous, Because Let's Be Honest
Let's face it: Wanting to make your ex jealous is a pretty natural human desire. When someone breaks your heart, it can feel like the best revenge is to simply move on and start dating someone new. But entering into a new relationship when you're still stuck on your ex isn't the best idea, especially if you're just dating someone to make your ex jealous, hoping they'll come back to you.
"Dating someone just to make your ex jealous is problematic because neither person is getting the honest part of you," bestselling author and professional life and love mentor Susan Winter tells Elite Daily. "Your ex is a conquest for your ego and the chance to turn the tables back to your favor. Your current partner is a place card, to hold a spot for your ex's return. Neither person is getting a fair share."
Not only is dating someone just to make your ex jealous unfair to your new partner, but it's also not the right way to handle your broken heart or get your ex back. And on top of that, it's also really not fair to yourself. It's OK to be alone and take time to grieve your relationship, and you deserve to give yourself the space you need to recover.
If you're not fully sure if you're in your new relationship just because you want to make your ex want you back, here are some signs to look out for.