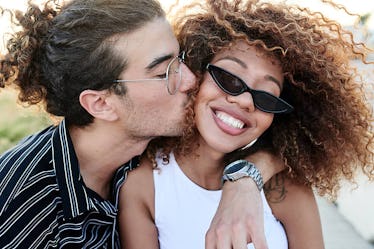 If Your Partner Respects Your Body, This Is How They'll Prove It, According To Experts
Finding the right partner can be challenging. They should be someone who you get along with, who shares your values, makes you happy, makes you feel loved, and someone who you have sexual chemistry with. But most of all, they should be someone who really respects and values you — emotionally, mentally, and yes, physically. If they value you, it will show in the way that they treat you — especially in the signs your SO respects your body. Your physical boundaries are just as important as your mental and emotional ones.
To help highlight these signs, I reached out to certified sex and mental health therapist Kristin Marie Bennion. She underscored just how essential it is for your SO to respect your body, because "we only have one body in our lifetime," Bennion tells Elite Daily. "If it's not treated well, that can have serious consequences down the road. Additionally, feeling as though a partner is disrespectful of one's body can also feel quite demeaning, leading to other problems in the relationship as well as with self-esteem."
In a world where we are often told our bodies are never good enough, it's important to find a partner who will help counteract those messages and give us and our bodies the respect that they deserve. Here are the signs your partner does just that.