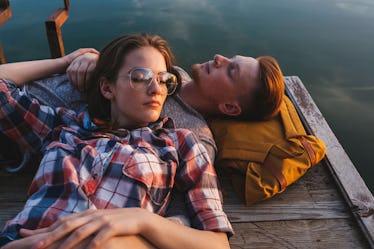 4 Signs You Completely Trust Your Partner & Have A Rock-Solid Foundation Together
Trust might be the most important factor in any relationship, romantic or otherwise. To trust a friend or partner is to feel at ease. And who doesn't want the people in their life to make them feel at ease? Being trustworthy is also an attractive quality in a partner. I can worry myself into oblivion over what WebMD says that bump on my leg might be. There's no room in my life to worry about a cheating partner. But how do you know if you truly trust your partner? And what are the signs you trust your partner?
It's easy to slap a smile on your face and tell a friend that you "completely trust your partner," even though you found a text to their ex on their phone just the other day and have been worrying about it since. But having real trust in a partner is deeper than that. It means seeing that same text to the ex on their phone and not worrying about it for a second. (And not because you're in denial, because you know your partner isn't about to cheat on you.) I spoke to Clinical Psychologist and host of "The Kurre and Klapow Show," Joshua Klapow, Ph.D. to figure out exactly what the signs you truly trust your partner are.
If you don't check all of these boxes, however, that doesn't mean that you don't trust your partner. "Trust is a deeply personal, subjective and emotional experience," says Dr. Klapow. "The signs come from deep within us. When it comes to trust there are a few tell tale signs of that you have it for your partner."