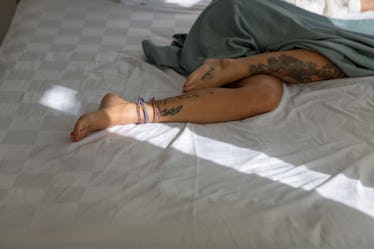 Restless Legs Syndrome Could Be Sabotaging Your Sleep, So Watch Out For These 4 Signs
On those warm summer nights when I resort to counting sheep or reading my old textbooks in an attempt to finally get some rest, I want nothing more than to be able to drift into uninterrupted sleep. Luckily, these kinds of wakeful nights are a rarity for me, but for many people, something else is seriously disrupting their slumber, called restless legs syndrome. If you're not familiar with the condition, but you are familiar with the mysterious agony of a sleepless night, it might be helpful to know some of the signs of restless legs syndrome (RLS), so you can figure out whether or not this is what's keeping you from getting the rest you need.
According to Bill Fish, a certified sleep science coach and co-founder of Tuck Sleep, restless legs syndrome, as the name might suggest, is characterized by recurring urges to move your legs throughout the night, as well as persistent leg pain that keeps you from being able to sleep. And, believe it or not, it's actually a relatively common condition: Matteo Franceschetti, co-founder and CEO of sleep technology company Eight, who suffers from RLS himself, tells Elite Daily over email that RLS affects more than 10 percent of Americans, so if you've experienced some of these signs and are wondering whether you have this condition, you're certainly not alone.
Luckily, if you're living with RLS, there are a few things you can do to improve your sleep. For instance, Fish tells Elite Daily, you can make a point to go to bed at the same time every night, which will train your body to know when it's time to rest and when it's time to be awake, thus (hopefully) mitigating some of the symptoms of RLS.
You can also try making your bedroom into what Fish describes as a "sanctuary" of sorts: Leave your electronics out of the bedroom, try to block out all light from outside, and keep the temperature cool, he recommends. Removing some of these external distractions may help to improve your sleep quality, Fish explains.
Whatever you try to do for your RLS, don't allow yourself to get too many poor nights of sleep in a row without reaching out to a professional, says Franceschetti. "If you feel like RLS is getting in the way of getting a good night's sleep, you should definitely seek help," he says. With the support of your doctor, you can find ways to adjust your sleep routine in a way that works for you, and you may even find that there's a medication out there that helps settle some of your symptoms.
In the meantime, here are the signs of restless legs syndrome to watch out for.