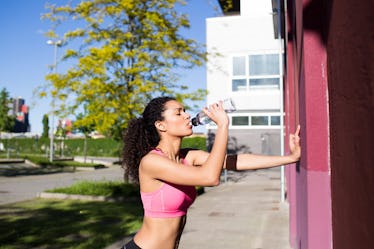 You'll Know The Keto Diet Is Working Once You See These 4 Signs In Your Body
Anytime you consciously decide to change your eating habits, it's probably because you're anticipating some kind of result. Whether you're looking to feel more energized throughout the day or simply improve your overall health, if you're just getting started on a new diet, you're probably hungry, hangry, and impatiently waiting for something to change. For example, when you switch from carb-oh-yes to carb-oh-no on the keto diet, the physiological goal is to have your body reach ketosis, aka the point where it's breaking down fats instead of carbs for energy. Luckily, the signs of ketosis are pretty obvious, so you'll likely know right away when the diet is working its ~magic~ on you.
In reality, though, there's nothing that magical about the keto diet — it's more scientific than anything else. What is magical is how you've been able to resist fluffy slices of Italian bread dipped in Nona's homemade marinara sauce over a bed of linguine. But, long story short, just in case you're reading this with a blank face and wondering why in the world anyone would say buh-bye to Saturday morning bagel sandwiches and avo toast Tuesdays, the keto diet is just another way of eating that involves consuming significantly fewer carbs and more healthy fats. In doing this, your body is forced to readjust and break down stored fats to keep you energized, as opposed to the glucose sugars in carbs it's been relying on for years.
If that sounds like a major change to you, that's because it is. But unlike most fad diets that can take forever to make an actual difference in your health, Dr. Charles Passler, founder of Pure Change, says your body is probably going to respond to the keto diet pretty quickly because, TBH, it really doesn't have a choice. Your body had a responsibility to burn glucose for energy, and now that that's gone, it needs to find an entirely different source of fuel to burn ASAP, and that's a two-part process: acknowledging that it now needs to rely on fats for fuel, and then teaching itself how to burn those fats properly in order to get the job done.
According to Passler, if, all of a sudden, you're eating less than 20 grams of carbs per day, it's going to take your body all of two days to go into ketosis — which, in my opinion at least, sounds pretty quick. "Your body can only store glucose in the form of glycogen, a substance stored as carbohydrates, in a two-day supply," he tells Elite Daily over email. In other words, the less glucose you're consuming, the less your body has to work with, and the faster it needs to come up with a backup plan — and that, my friends, is when ketosis begins. Of course, every body is different, and not everyone goes anti-carb ASAP, so this is ultimately going to depend on how quickly you're making the transition.
But obviously you're not a doctor (or maybe you are; in that case, ignore me), and you probably don't have any sort of device that allows you to check in or communicate with your insides to ask about its ketosis status. Therefore, you need to know the tell-tale signs of ketosis to look out for. That way, when it does happen, you'll know for sure that saying no to carbs was actually worth it (is it ever really worth it? I digress).