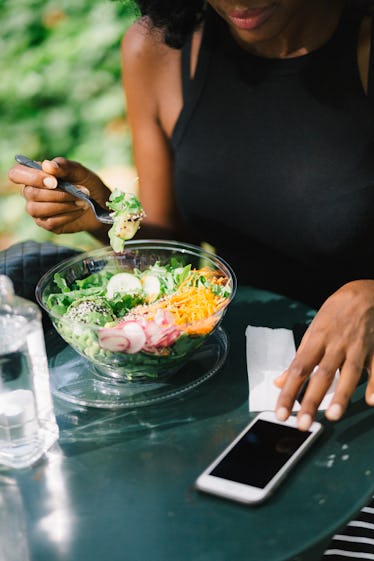 Switching To A Keto Diet Can Transform Your Body & Mind In These 5 Awesome Ways
When diets become buzz-worthy, it's usually because either someone you know or a celebrity shares their before-and-after stories that have little to nothing to do with health, and everything to do with a physical body transformation. There's nothing wrong with changing your eating habits to meet your aesthetic goals if that's something you genuinely want for yourself, but shouldn't the actual health benefits of a food program count for something, too? Take the benefits of the ketogenic diet, for example. When you hear "keto," I can almost guarantee the first thing to come to mind is shedding pounds or images of Kourtney Kardashian's lean figure. While it's true the keto diet is primarily advertised for weight loss, there's a lot more to this way of eating than numbers on a scale.
Before diving into all the healthy benefits you can reap by switching to a ketogenic diet, let's identify what it even means to go keto in the first place. To break it down, nutritionist and founder of Pure Change, Dr. Charles Passler, tells Elite Daily that, essentially, the ketogenic diet is a "low carbohydrate, high fat and moderate protein diet" in which, by eliminating carbs from the bulk of your meals, the body is forced to "find alternative sources of fuel." It does this by breaking down stored fats and converting them into energy.
Personally, I love me some carbs, so I know for a fact this food program isn't for me, but it is relatively easy to follow if you can get past giving up bread, pasta, Oreos, and the like. According to Dr. Josh Axe, D.N.M., C.N.S., D.C., founder of DrAxe.com, and co-founder of Ancient Nutrition, a ketogenic diet is comprised of healthy fats (think olive oil, coconut oil, avocado, nuts, and seeds), non-starchy veggies like zucchini and leafy greens, and high-protein foods.
All of these foods are great for your body and your mind, and truly, there are plenty of benefits to be found in the keto diet that have nothing to do with weight loss. Here are a few of the positive changes you'll notice in your body if you decide to go keto.