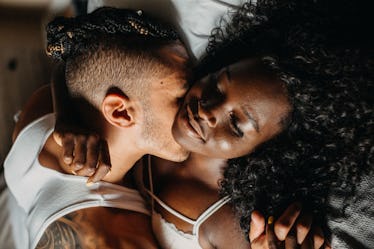 4 Sex Moves To Try In November That Your Body Will Feel Extra Thankful For
The start of chilly fall weather means you have more of an excuse to cancel your plans and cuddle up in bed with your significant other. It also means you're going to need more blankets, because baby, it's cold outside. You could warm up by throwing on additional layers or raising the temperature on your thermostat, but why not turn up the heat in more ways than one? Just keep in mind that for every article of clothing you and your partner remove, you'll need to get your body temperatures even higher. Luckily, these four sex positions for November 2018 will ensure plenty of blood flow, and a whole lot of sweet friction.
Grab the marshmallows and cocoa mix, and don't forget the lube, because once you come home, you won't want to leave again for any reason. November is finally here, so get ready for a marathon month of steamy sex — followed by lots of warm cuddles and mugs of hot chocolate, of course. You're sure to have plenty to give thanks for when you're done. With these four sex moves on the menu, you'll be even more satisfied than you are after Thanksgiving dinner — but just as stuffed.