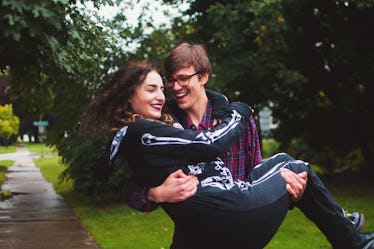 4 Reasons That Fall Is The Most Amazing Season For ~Falling~ In Love
Leaving the warm, sunny, Vitamin D-filled season of summer can maybe make you feel like the best is behind you for awhile. But rooftop bars and poolside dates aren't the secret sauce to finding a relationship. Actually, fall is the best season to fall in love. The cooler months aren't just more aesthetically pleasing with sweaters, scarves, and seasonal treats — autumn scientifically makes you more in the mood for a mate, too.
"With the shortening days of autumn, melatonin elevates in the brain — making people more sluggish and eager to lounge at home, preferably with a sweetheart," Dr. Helen Fisher, chief scientific advisor of Match.com, told Elite Daily. "Then testosterone rises in November, triggering even more desire to snuggle with a lover. By then, 'cuffing season' is in full bloom."
See? Fall is ideal for falling in love, according to science. Goodbye summer, winter, and spring competition. The case is closed.
Well, if you aren't convinced, and need more romantic reasons other than what's going on chemistry-wise in your body, here are some more reasons why falling in love in September, October, and November are the best months to do so.