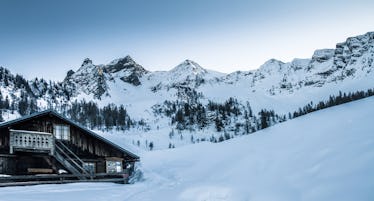 4 Quick Trips To Take With Your Partner If You Want To Get Away For A Bit
I remember the first time I traveled internationally. (Well, duh.) There was something about seeing signage in another language and chain restaurants that I didn't recognize that made me realize there really was a whole world out there. (Also, duh.) I knew the world was large, but getting away from the country I grew up in allowed me to concretely understand it. Similarly, if you're feeling the winter blues in the city you live in, there are quick trips to take with your partner that will help you break up the monotony.
Chances are, if you are like me, not every weekend is a three-day weekend for you (I wish) and you don't have an unlimited budget (I also wish), so there are a few qualities you'll want your couples' getaway to have. First, look for a great price point. Think outside the box when considering quick getaways — maybe it's a day trip or something that doesn't require lodging or an expensive plane ticket. Next, you'll want to pick some sort of activity. Whether it's as simple as a hike or as involved as snowshoeing, activities are a great way to bond. Finally, make sure the getaway is to a place your partner will also be interested in. Otherwise, the weekend trip will be a moot point. Now, for my suggestions:
1. A Beach Trip
Yes, even if you don't live in California, hit the sand this winter. Whether it's a 20- or 60-degree day, if you live within a few hours drive of the ocean, make an off-season trip. There's something stunning about going to the beach in winter that is simply undeniable. Plus, you can pack a charcuterie and cheese picnic and some wine, and you'll likely have the whole beach to yourselves. If you live on the West Coast, it might be crowded, so choose a beach you rarely head to. Novelty is key to a fun road trip.
2. A Ski Day
I know, I know. This can sound like a lot of planning and money, but skiing is an incredibly fun winter activity, even if you're a beginner. (Just make sure to take a lesson.) To keep costs low, find a smaller mountain that you've never been to and hit the slopes — or go tubing — for the day. You'll feel like a kid again in the snow, and you'll feel accomplished at the end of the day. You'll also be ready for a soak in a hot tub, so maybe rent a sweet Airbnb and make a weekend out of it.
3. A Trip To A Weird Museum
I feel like every town in this country must be a few hours' drive from at least one weird museum. If you're in Boston, you and your partner can go to Plymouth Plantation and get your pilgrim on in a super weird date move. If you live in California, there's a PEZ museum in Burlingame. Missouri? Check out Leila's Hair Museum. Or, you could just pick a random, small, artsy or foodie town and head that way with your partner. Either way, going someplace different and bizarre is a great adventure no matter what.
4. A Brewery/Vineyard/Distillery Tour
Tried but true, boozing while learning how booze is made is a really fun weekend activity to participate in with a partner. I know that there are places outside of New York where you can take a train to a hike that leads to a brewery, and I assume other situations like this exist around the country. I would do a quick Google search about what sorts of multi-activity dates you could plan revolving around an end that is some sort of learning-but-also-drinking-and-relaxing experience. Light exercise plus indulgence is always a good plan.
All in all, the fun in getting away is simply that — getting away. Make a sweet Spotify playlist, borrow bae's friend's car, and pick a spot on a map that looks decently interesting. The best part of it all is that you'll both be in it together, doing something other than watching Netflix, and that's the point.
Check out the entire Gen Why series and other videos on Facebook and the Bustle app across Apple TV, Roku, and Amazon Fire TV.
Check out the "Best of Elite Daily" stream in the Bustle App for more stories just like this!