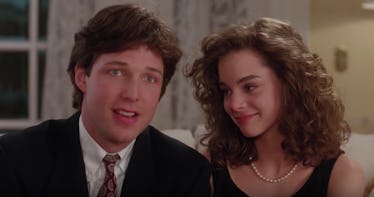 4 Questions To Ask Your Partner About Wedding Planning, Because Their Opinion Counts
If you've ever watched a mid-2000's romantic comedy featuring Kate Hudson or Patrick Dempsey, then you probably know how much work goes into planning a wedding. Obviously, real life isn't usually nearly as dramatic as the antics shown on screen, but wedding planning is tough! You want the wedding to be fun, but you and your partner also have to decide what you want in a wedding and what works for your budget. That said, there are definitely some important questions to ask your partner about wedding planning before you jump right in, and some of them might surprise you.
Depending on what your relationship looks like, there might be one partner who is more involved in wedding planning. Whether that's you or your SO makes no difference, as long as that person feels supported along the way. However, even if one of you is taking on the majority of the planning, that doesn't mean that the other partner doesn't have to do anything. You both should be involved. "Involving your partner in a joint decision should be obvious," Sasha Aurund, editor at Psych N Sex tells Elite Daily. "To take the pressure off of 'this being the most important say of your life' as society calls it, think of this event as any other," she advises. "Such as planning a dinner party to getting a pet — these choices should be done in unison. It's important that your partner loves the day(s) as much as you do."
But in order to figure all of that out, there are several questions you should probably ask you partner about your wedding, to avoid conflict down the line and ensure you're both happy with the final results. Some might seem obvious, but according to Aurund, they're still super important.