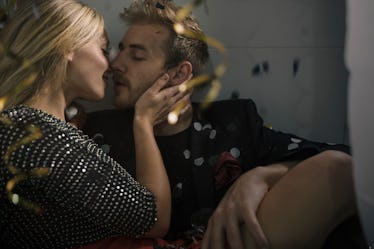 4 New Year's Sex Positions You Have To Try If You Want To Leave Boring Sex In 2017
New year, new you. Every year you say it, and every year you swear you mean it. So why not let 2018 be the first time you actually achieve it? This mantra should apply to all aspects of your life, including your sex life. Whether your private goal for 2018 is to have more orgasms, do it in more adventurous places, or experiment with new people, these four New Year's sex positions are a great place to start. Actively work toward making this year your best one yet, in the bedroom and beyond.
From sex toys to threesomes, these positions incorporate elements that are far from boring. Don't worry, though. You don't need to twist yourself into a pretzel or go all Fifty Shades to have more interesting sex. Each of the below strategies can be attempted by pretty much anyone, as long as you and your partner are willing to try new things.
While all of these sex positions can of course be attempted any day of the year, doing them on Jan. 1 is guaranteed to kickstart your 2018. You'll go into the new year feeling satisfied, and that triumphant feeling might just influence your other endeavors. It's a win-win for sure.
1. Ring In The New Year
If you're looking for a sex toy that works for both you and your partner during intercourse, consider a vibrating cock ring. Once your guy is hard but not totally erect, have him slide the ring onto his penis. It should be a bit constricting, to keep him harder and make the sex last longer. Turn the bullet vibrator on so it starts buzzing, and get on top of him. Cowgirl is an ideal position to enhance using a cock ring. The vibrations against your clit combined with the usual pleasure of penetrative sex will drive you wild.
2. Work Remotely
Another toy you've probably been wanting to try, but maybe haven't yet, is a remote-control vibrator, like the We-Vibe 4 Plus. If you're into the idea of playing with power dynamics, let your partner take the reins. When using the vibrator during sex, missionary position is a good place to start. Slide the G-spot piece inside of you and have your partner insert themselves underneath (the toy isn't that big). Your partner can use the remote control to slowly increase the speed of the vibrations. You can keep the fun strictly in the bedroom, or get kinkier and test drive the toy in public. For long-distance relationships, some models (like the We-Vibe 4 Plus) even come with an app so that your partner can give you pleasure from across the country.
3. The More The Merrier
If you've talked to your partner(s) about a threesome and agreed that it's something you'd all be into, you're in for a night of fun. You might not be sure where to start, which is normal. After you're turned on from kissing and touching, try this position, which incorporates pleasure for all three of you. The first partner penetrates the second doggy style (either with a penis or a strap-on), while the second uses their mouth on the third partner.
4. Play Up Your Strengths
If you're looking to spice things up in the bedroom, look to your fantasies. Chances are, you and your partner have plenty of situations you'd both be down to role-play. Whether you put on a plaid skirt and play a sexy student or you take inspiration from Christian Grey and Anastasia Steele, it's amazing what a few props and some in-character dirty talk can do. Bend over a desk so your torso is at a 90 degree angle to your legs. Have your partner stand and enter you from behind. If you're on the shorter side, high heels can add both sex appeal and practicality. Incorporate whatever toys you'd like. If you're channeling a naughty librarian, for example, maybe let your partner spank you with a book.
Is it getting hot in here, or is that just me?
Check out the entire Gen Why series and other videos on Facebook and the Bustle app across Apple TV, Roku, and Amazon Fire TV.
Check out the "Best of Elite Daily" stream in the Bustle App for more stories just like this!