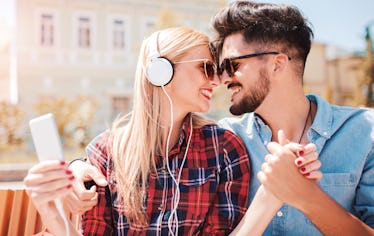 These 4 Personality Types Never Hesitate To Define The Relationship
Shutterstock
There comes a point in dating someone new when you may inevitably start to wonder, "What are we?" While it's clear you're both into each other, what's not clear is whether you're seriously in this for the long haul. If you're someone who generally likes to know where you stand, then it's definitely worth knowing the Myers-Briggs personality types who are most likely to define the relationship. Because let's face it: Verbal commitment is not a strong suit for everyone (looking at you, ISFPs).
Let's be clear. There's nothing wrong with preferring to keep things easy breezy. Some personality types value their independence so fiercely that they'd rather not put a label on things so they can go with the flow rather than feel tied down by responsibilities. Specifically, it's worth noting that Perceivers are typically far less likely to initiate the DTR convo than Judgers, who are more planning-minded and future-focused.
Alternatively, you may be someone who appreciates the opportunity to define things. Maybe you get tired of referring to your new boo as "that person I'm seeing," or wondering if it's too soon to post about them on Instagram. Maybe getting clear on whether or not you're both equally invested gives you some much-needed reassurance, so you can relax and enjoy the ride.
If defining the relationship gives you the sense of security you need to thrive in your dating life, then these personality types just may be your perfect match.