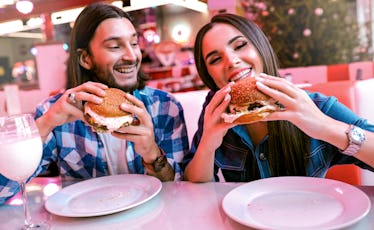 4 Personality Types Who Always Pay On The First Date, 'Cause Romance Isn't Dead
Shutterstock
The moment the check comes on a first date can be super telling. Does your date reach for their card, but then happily let you foot the bill? Do they make no moves whatsoever for their wallet? Or, do they immediately insist on covering the tab? Whether you know it or not, personality comes into play during this sometimes awkward yet unavoidable exchange — and there are several Myers-Briggs personality types who always pay on the first date because — well — it's simply in their nature.
Of course, there's no right or wrong approach on this matter, and everyone has their own take on who should take responsibility. Some feel strongly that whoever asked the other person out or made the plan should take care of the check, while others think everything should just always be split evenly to ensure things are fair.
I've dated people who eagerly foot the bill in the beginning stages, and I've also dated people who preferred to go Dutch from the get-go. Once, I went on a first date with a guy who Venmo requested me for the two beers he bought me mere minutes after we said goodbye (spoiler alert: that was also the last date with that person). What I've learned over time is that someone's stance on the etiquette here usually comes down to their personal values, their attitude toward spending, and how they like to show they care in a romantic situation.
If you're the kind of person who appreciates when your date pays — at least the first time you hang out — then keep an eye out for these personality types, who will never hesitate to whip out their wallets.